Anniversary of the Russian Invasion of Ukraine
Commemoration on February 24, 2023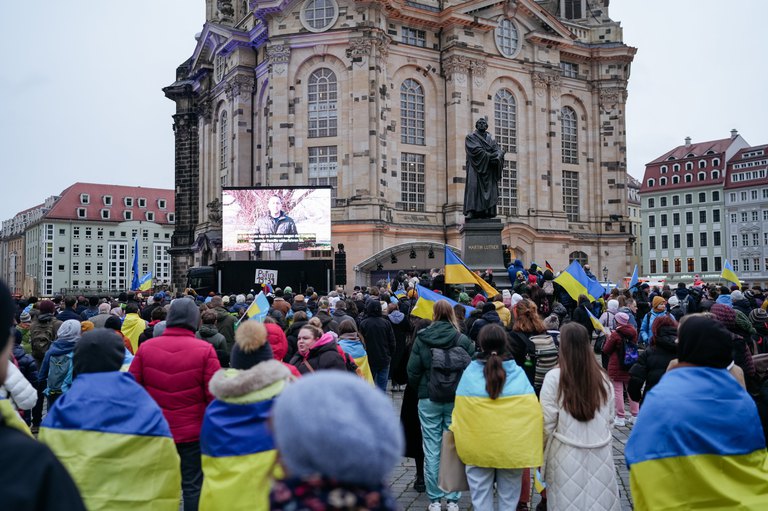 photo: Vira Dumke
All over Germany, on February 24, 2023, there were events to mark the anniversary of the attack. And in almost every city, the event followed its own concept. In Dresden, we deliberately let our feelings guide us as well and emphasized this in the title of our appeal: "Grief, anger, solidarity and gratitude." Now that this solidarity event is over, we readily admit it: We were initially unsure how to appropriately mark the anniversary of such a sad event. In the preparatory group, we discussed at length what kind of event with what content was the right one. Would the tension we had planned hold together a public event with several thousand participants? Can we give adequate space to grief and gratitude? The result could be experienced on February 24.
When we talked in the preparatory group about the goal of the event, which should reach beyond the day, everyone mentioned the wish that the experienced solidarity may continue until we can leave this terrible war behind us, dancing together on the streets of Kiev, Kharkiv, Mariupol and elsewhere in Ukraine. So long we want to stand together!
Together with the Ukrainian community we celebrated the Memorial Day on February 24, 2023 in a dignified way. Many tears were shed. It was a day rich in hugs. Dresden's Neumarkt was filled with voices of gratitude from the Ukrainian community. Dresden once again showed its best side on February 24 at the Neumarkt.
Under this link you can view pictures of the event. You can watch a film shot during the event here.